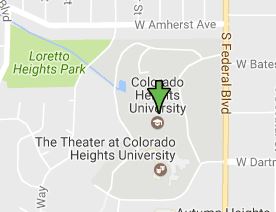 By: Ellis Arnold Colorado Community Media June 24, 2017
ORIGINAL ARTICLE IS FOUND HERE
After Colorado Heights University, long one of the most opulent sights in southwest Denver, announced its closing in November, the future of the campus is still up in the air.
Denver City Councilmember Kevin Flynn is pushing to keep the southwest Denver community in the conversation on the not-for-profit, private university's campus.
"I think a lot of folks who've been in area for long time have some anxiety over potential changes that could be coming to the campus," Flynn said. "It's not what they're used to seeing."
Flynn doesn't know who's in the running to buy the campus – that's confidential information the school can't disclose, he said – but its real estate firm asked interested buyers to submit qualifications by late July, Flynn said. The university is expected to close in October, he said.
Flynn organized a community meeting about the future of the campus and development in southwest Denver as a whole, where residents aired concerns about affordable housing, retail and open space. It drew 130 people May 16 – likely the highest turnout at such a meeting in many years, Flynn said.
The meeting, held at Denver School of Science and Technology's College View High School – which sits on the Colorado Heights campus – focused largely on that land, Flynn said.
The 76-acre campus at 3001 S. Federal Blvd. sits at one of the highest points in Denver and houses 14 buildings, including a 1,000-seat theater, an interfaith chapel, a swimming pool, a cafeteria, residence halls and recreational amenities, a Westword story said.
"People are concerned about the tower building being (possibly) torn down – people are concerned about the cemetery and it being respected and preserved," said Xochitl Gaytan, president of the Harvey Park Improvement Association and a meeting attendee. "Tower building" is a reference to its six-story, historic administration structure.
Gaytan's group gathered about 30 people at the Sheridan Recreation Center April 12, where they expressed those concerns, she said. Residents said that if a new developer builds housing, they want to see affordable housing rather than expensive condos and townhomes. They also wanted to see a community garden space, she said.
Under current city rules, multi-unit housing is already permitted on the property because there are college dorms there, Flynn said. That could open up the possibility of affordable housing.
"The historic graveyard on the campus has 62 dead nuns in it," Flynn said. "I really want to thank the (owner, Teikyo University Group), because on their own choice, they said they want to donate back to the nuns that space where their ancestors are resting."
The university has offered to donate the cemetery to the Catholic organization Sisters of Loretto, which founded the campus, and discussions are continuing, said Bronson Hilliard, a university spokesperson.
Hilliard also said potential buyers will be evaluated on their commitment to preserving the administration building and the chapel.
Although Flynn said Denver City Council has "very little" role as to who will buy the property – the city would only get involved if a buyer wanted to add uses that currently aren't permitted – he wants the buyer to know what the community wants and said he'll reach out to meet with the buyer to see if what it wants to do "is compatible" with that. He said he's had multiple meetings with the Teikyo leaders in Denver.
"We're willing to work with the new owner to help fund the preservation (of our heritage)," Flynn said. "As a 127-year-old building, it's gonna need a lot of work."
Pioneering institutions
The campus, once called Loretto Heights College, is steeped in Denver history that goes back more than a century.
Originally owned by the Sisters of Loretto, Loretto Heights Academy opened in 1891 after their original building in downtown Denver – the Catholic girls' school St. Mary's Academy of the Loretto Order, which opened about 1864 – grew to take up nearly the whole block by 1880, a 1985 school newspaper article said.
Loretto Heights Academy, the first incarnation of the campus in southwest Denver, was a Catholic elementary and secondary school. In 1918, it began offering college curriculum, and in 1948, it became solely a four-year Catholic college for women. In 1970, it began admitting male students, and in 1988, it closed, and three of its academic programs moved to what was then called Regis College in Denver, according to a Regis article.
The main building – now the administration building – has been on the National Register of Historic Places since 1975 and still was as of July 2015, according to register documents.
"The administration building on the campus is a Frank Edbrooke design, probably the most famous architect of Denver of the 19th century; some would argue he's the most famous ever in Denver," Flynn said. Edbrooke worked to design the Oxford and Brown Palace hotels and was the final architect for the Colorado Capitol, according to historical society History Colorado.
Teikyo Loretto Heights University opened on the campus in 1989 and focused on international students, according to a Westword article. The Japan-based Teikyo University Group opened Colorado Heights University in 2009.
Denver Public Schools bought six acres of campus land on May 1, Flynn said. He said DPS built its DSST high school and middle school there in 2012.
"(The campus is) one of the first institutions ever in southwest Denver," Flynn said. "I think the only older institution is Fort Logan."
Future of the campus
"A combination of factors" led to the decision to close, the university said in a November news release. "An insufficient student population" in "past and current enrollments" made it difficult to sustain the university, the release said.
Also a factor: the decision by the United States Department of Education not to recognize the Accrediting Council of Independent Colleges and Schools, which approves the university's academic programs to receive federal financial aid.
"There were a lot of red flags with how ACICS was doing business as a quality assurance agency, and it did not seem likely that the agency could possibly fix them all in a reasonable amount of time," said a Dec. 12 Department of Education letter, which referenced uneven monitoring of schools and concealing of information from the department by the group. A senior department official issued the decision, and it was solidified Dec. 12.
Schools have until June 2018 to find new accreditation or close. Colorado Heights chose the latter and successfully transferred all its roughly 100 graduate and bachelor degree-seeking students in business disciplines into other universities in the area that are accredited, said Hilliard, the school spokesperson. Due to student privacy concerns, Hilliard could not say which universities received the students.
Hilliard said there are currently only students studying English as a second language on campus, who are expected to finish in early fall. The English-learning program is a 12-month certificate program, and it served the university's other roughly 400 students as of November.
All students who graduate from the university will still have their degree recognized by the Department of Education, Hilliard said. For others, transferring credits is an option, according to the department's letter.
As for surrounding community members, they're holding another community meeting on June 29 at 7 p.m. at the Veterans of Foreign Wars building at 5220 W. Warren Ave. A news release for the event said it could include southwest Denver-area residents, state and local elected officials, Sisters of Loretto members and university faculty, staff and alumni.
"Recent redevelopments around the city have demonstrated that Denver residents have little to no voice in what happens right in their own neighborhoods," the release said. "Residents are taking the initiative now with the hope of producing a 'win-win' for everyone involved, including the new property owner."
Flynn said he's been urging the city to acquire the 1,000-seat theater or find a way to retain it as a community building, saying it could be a "revenue stream" and host actors, artists, concerts and the like.
"I'm anxious to see who the buyers are," Flynn said. "Will it be residential development, mixed use, retail development, education institutions? I've learned not to worry about things I can't control. But what I can control is, does the buyer know what the community wants?"
ORIGINAL ARTICLE IS FOUND HERE
At the
May 13 Delegate Meeting
a motion to a
resolution
was passed to urge the City to acquire this land to be used for parkland. The motion passed 30 votes in favor, no opposed votes and one abstain.