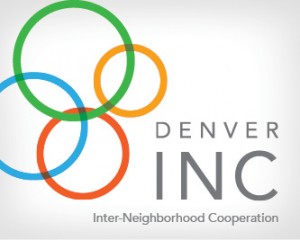 INTER-NEIGHBORHOOD COOPERATION
Delegate Meeting Minutes
November 11, 2017
Willis Case Golf Course
Meeting was called to order by JJ Niemann at 9:00 am
Quorum present 43 at time meeting began
Minutes of October 14 Delegate Meeting
Motion to accept minutes was accepted with 40 yes, 2 abstain, 1 did not participate
Reminder About the Annual Awards Dinner and Call for Volunteers
Date: January 31. Invitations will come via mail. INC needs volunteers for check in and dinner set up. Please contact membership@denverinc.org if interested in helping.
SPECIAL PRESENTATION- DPS
Lisa Flores, Denver school board member spoke about appreciating the work of INC. The Denver school board has three new members. The school board race was contentious but all members of the board want what is best for the children of Denver.
Tom Boasberg, Superintendent of Denver Public Schools introduced three public affairs people. He spoke about every Denver student having potential and talent. Denver has the largest increase in school enrollment in the country. Denver graduation rate is up 70% (from 2014-15 to 2015-16). English Language Learners (ELL) are now doing better in reading performance than across the rest of the state. Over 100 different languages are spoken in Denver public schools. He cited dropout rates have declined 60% over past ten years and a continued gain in students enrolling in college the fall after graduation.
Boasberg also addressed DPS mission to strengthen neighborhoods as related to a commitment to operating and sustaining high quality schools. He also talked about the decline in number of school-aged children in gentrifying neighborhoods and the charge with how to think about school choices/consolidation to maintain quality and sustainable programs for the kids.
DPS invited feedback on a short survey about changes in the community, impacts of changes and so forth. These were handed back to representatives from the school system.
INC PROPOSED BYLAW CHANGES:
JJ Niemann, INC President, introduced Margie Valdez, Chair Bylaws Sub Committee, to review proposed bylaws changes pertaining to last date to renew membership within INC and to be able to participate in voting on or running for INC board positions. The changes were emailed to all members October 30, 2017. 45 delegates present at this time.
Motion to adopt changes (See bylaws changes here) made by – Adrian Brown, seconded by Ernie Diedrich. Discussion of pros and cons of motion.
VOTING MATTER NOVEMBER 11, 2017
INTER-NEIGHBORHOOD COOPERATION, INC.
PROPOSED BYLAW CHANGES
During the 2015 INC election, concerns were raised regarding the process of the election. The purpose of this proposed amendment is to enable the process to be better organized and to provide INC registered neighborhood organizations with prior notice of requirements for payment of dues in order to participate in the March 2018 INC election.
229 total views, no views today

The question was called: 33 yes 8 abstentions (2/3 required yes)
Vote on motion: In favor: 28, Opposed: 2 Abstentions: 14 Did not participate: 1
Called for Recount: In favor: 28 Opposed: 2 Abstentions: 13 Did not participate: 2
Call to revote: In favor of revote 21, opposed to revote 14, abstentions 0
[Added one delegate to the vote who came late = 46 voting from this point.]
Revote: In favor of passing motion 31, opposed to motion 4, abstentions 11
Motion to adopt INC proposed bylaw changes passed by required two-thirds of delegates present.
COMMITTEE REPORTS
Transportation – Joel Noble, Co-Chair
Joel reported on the November 9 meeting where a representative from DRMAC presented the getting there guide, a representative from A Little Help spoke about connecting seniors to neighbors, Councilman Kashmann spoke about Denver's upcoming sidewalk repair project and Vision Zero was discussed. Last meeting of the year was November 9.
Parks and Recreation – Maggie Price, Co-Chair
Maggie reported on last meeting, next meeting November 20 (details), which is the last meeting of the year. Maggie reviewed INC'S Second Resolution Re: Denver's Acquisition of Park Hill Golf Course.
A motion to discuss the proposed second resolution was brought by Helene Orr –Overland North neighborhood. Seconded by Cindy Johnstone. After the discussion the question was called with no opposition to calling the question. [At this point, there were 50 voting delegates present.]
Now Therefore, Inter-Neighborhood Cooperation calls upon the public officials of the City and County of Denver (1) To amend the proposed contract between Denver and Clayton regarding Park Hill Golf Course so as to remove Clayton from being the lead on the "Visioning / Master Plan" process, and to delete from the proposed contract reimbursement to Clayton for any participation it might choose to undertake in the planning process; and (2) To commit to the preservation of the Park Hill Golf Course property as park land and open space.
In favor 36, Opposed 7, Abstentions 7
INC's Second Resolution Re: Denver's Acquisition of Park Hill Golf Course Passed by required majority of voting delegates.
Zoning and Planning
JJ Niemann reported on the last meeting where design standards were discussed as well as the Green Roof Initiative which recently passed city ballot, and the resolution to amend the zoning code to provide zoning of parks. He reminded attendees December 9 is the last ZAP meeting for 2017.
The Resolution to amend the zoning code to provide zoning of parks was presented by Cindy Johnston and seconded by Bridget Walsh. LaMone Noles from City Park Friends and Neighbors read the resolution. A discussion took place. The question was called.
It is Resolved by Inter-Neighborhood Cooperation Zoning and Planning:
We request City Council to amend the Zoning Code such that OS-A land is
subject to community-inclusive zoning control processes similar to other zoning classifications and under the authority of City Council and commit to take no action in Council to bring forth a bill in this matter until a meaningful community engagement process has been completed.
In Favor: 48, Opposed:0 Abstained: Joel Noble on record, Non participating 1
Motion passed by majority of voting delegates.
The meeting ended at 11:00 am
Respectfully submitted by, Mary-Jane Giordano
Edited by Jane Lorimer
112 total views, 0 views today