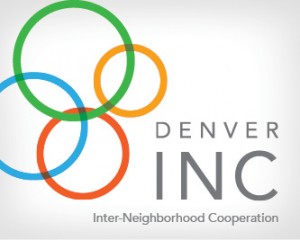 Inter-Neighborhood Cooperation
Executive Committee Meeting
Daniels Building 101 Monroe St.
June 20, 2016
Attending were; J.J. Niemann, John Riecke, Bibi Alexander, Drew Dutcher, Ian Harwick, Bonita Lahey, Steve Nissen, Cindy Johnston, Joanne Kuemmerlin, Merce Lea, Maggie Price, Margie Valdez, and George Mayl
The meeting was called to order by President Niemann at 6:30 PM.
George Mayl, RNO delegate from Cory Merrill, presented an idea for a citywide survey led by INC that rates performance of City leadership from the Denver resident perspective. The proposed survey would be sent to INC's list of RNO member, INC's past presidents and non-member RNO's with a request to circulate to the respective RNO's members for response. Survey will be mounted on Survey Monkey. Board/EC approved the presented survey content as presented.
J.J. complements everyone's work and asks for member's cooperation in "assuming positive intent" and not "making viewpoints personal". John asks that members show leadership in smoothing interactions with the city.
Articles of Incorporation: A motion to approve the amended Articles of Incorporation at the May Delegate meeting was tabled because of a concern about a liability clause. Margie stated she is prepared to defend the language of the affected clause. John moved that we keep the proposed language and return the issue to the delegation for approval.
Denveright just released their list of task force membership. Joel – once marketing starts we need to work to get the message out regarding public meetings and to push the city to get schedules out early.
Survey: Will get it out before winter.
Annual INC Financial Audit: Set for last week of July or first week of August. Steve, John and Bibi confirm availability.
Committees:
Transportation: Still building agenda for next meeting. Getting requests to take positions.
Charitable Works: Good turnout of supplies for Gathering Place at last delegate meeting. No plans going forward yet.
PARC: Continuing discussion with Fred Weiss that was started at the previous PARC meeting as to future formalization of rules regarding special events in parks. This is in addition to planned changes to the Game Plan. PARC meeting minutes and Game Plan are on INC website. There were some complaints of increased sound volume in neighborhoods in close proximity to City Park during Jazz in The Park and Races. The previous year sound volumes were regarded as very good. Complaints to Police are usually not responded to because of the seriousness of other complaints to them. City departments are working together to address tree/salt water issue.
ZAP: A petition is being circulated to get a bill to allow pot clubs on the November ballot. NORML will be at the ZAP meeting on June 25. Short Term Rentals – creation of policies and procedures for enforcement upcoming. Good turnout at June 13 Council Hearing. Citizens Academy in August will contain 30 attendees (½ INC chosen) will be the same program as last year. There is big money in marijuana licenses – those that lose out may go to court.
Membership: Needs a new Co-chair. Ian and Michelle had volunteered. Maggie feels that committee chairs shouldn't be board members. Consensus not to appoint Ian and Michelle and instead ask for volunteers at next delegate meeting. Jane Lorimer will continue with membership for now.
INC Strategic Plan: JJ likes what Jane put together in attached handout. Board will review and come back with comments. Joel – should assess achievements in platforms and plan for next steps. Bonita wants a financial plan.
Meeting adjourned at 8:35 PM
540 total views, 0 views today