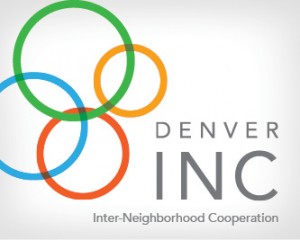 Inter-Neighborhood Cooperation
Executive Committee Meeting Minutes
Daniels Fund Building – September 11, 2017
Call to order (7:12pm) Adjourned 840P
Present:
Board: JJ Niemann, Hank Bootz, Drew Dutcher, Loretta Koehler, Jane Lorimer (Quorum)
Committee Chairs: Maggie Price, Margie Valdez
Minutes
Jane moved to accept EC meeting minutes from August14. Seconded by Hank. Motion passed without exception.
Treasurer Report
Jane moved to accept the August end treasurer's report as submitted. Hank seconded. Motion passed unanimously.
CURRENT PROJECTS
Forum Follow Up
Drew and Hank will draft a media release as follow up. They will be the media contacts and Jane will distribute to media. To be done this week.

The information packet INC passed out at the forum and the proceedings video (You Tube) are posted to INC website.

Jane made a motion to approve the cost of a professional transcriber for the YouTube recording of the September 9 Forum. Seconded by Loretta. Approved unanimously. Jane will find the resource. Deliverables: Text transcription-electronic format. Estimated cost $250

Goal for future is to provide proceedings in Spanish language
INC Dinner
Venue / Date / Theme: Hotel is booked for January 31 – total ballroom. INC to invite same groups (City leaders, INC members, non-member RNO leaders). About 500 invitations and about half attend (250). Meal selection can be same as 2017. Cash bar.
Theme is Neighborhoods Working Together. Awards to be the central focus, shorter program, PPT to be INC branded, professional emcee and short Visit Denver presentation.
Jane will approach Hospitality program at Metro State to help with parts of the dinner on site and in set up. Otherwise, we may need to pay a coordinator for some items.
Invitations: EC would like to have a designed invitation (engage Anya who did these in past or Michael Smilanic). Reservations to be routed to Survey Monkey (includes registration of attendee, meal choice, guest name). Can be exported for name tag creation. Do we need a telephone option to accept RSVP for those without email? Perhaps hand out invitations at November delegate meeting.
Auction: EC decided to not hold an auction for 2018.
Sponsorships: Visit Denver increased their sustaining level. Jane will prepare sponsorship package and INC wants funding to at least cover our costs.
Awards: An article was published in September newsletter regarding INC Neighborhood awards (be thinking about these and what awards are open). This article will be repeated in October, November and include how to submit online. Maggie to establish links online by Oct 15.
EC recommends having an awards committee to receive and evaluate nominations and manage the purchase of awards: Suggested names George Mayl, Tom Mobley, Michael Henry, Myles Tanglin and have Steve Nissen edit the write ups. JJ to establish by Oct 15.
Emcee: Jane will ask Andrew Romanoff and if he is not available will pursue on-air celebrity option.
Future Dinners
How can we track who just comes to the dinner and not to INC meetings? Can invitations be tied to RNO representation to monthly meetings?

The original goal for dinner was as a fundraiser to net enough to pay for contract help with newsletter and membership

We need a person to organize and coordinate all parts of the dinner
Member Survey 2017
Jane presented overview of member survey (which also was sent to leaders of non member RNO organizations). All sent via email invitations through Survey Monkey.

Invited 91 non-member RNO's. 11 complete or partial responses and 20 clicked through without response. Too few responses from non member RNO's to be considered valid but some interesting comments.

Invited 213 INC members (including Associates) 88 complete or partial responses (41%). Found that 34% attend regularly which is reflected in signup sheets.
EC requested this member survey be posted to Facebook to see if quantity of responses could be increased. Jane to send URL and blurb to Maggie for posting.
Other Discussion:
34% come to monthly meetings on a regular basis. Should we advise RNOs if their delegates are never there? Meeting on Saturday is found inconvenient by many people.

Only do 10 Delegate meetings a year (No July, No December). We did this in 2017.

Use text and phone calls to remind people. Too many emails – INC gets lost.

Academies for RNO development: Teach Roberts Rules, how to engage as something new from INC. Incorporate Jo's notes from August delegate meeting.
Denver Decides
Invitation to INC EC to participate. The presentation is only on TV8 and no audience room/seating available beyond our EC. INC to advertise the information to members through our website and social media.
Other
ZAP is seeking co-chairs– Can Associate Members Be Committee Chairs? INC needs to broaden who can serve if we want to remain viable, fresh.

Margie reported she got an email stating that INC doesn't support renters and also that INC had supported social consumption of marijuana 1000 ft. from neighborhoods restriction. Those 

restrictions were never mentioned nor discussed at the social consumption advisory committee meetings, nor did INC propose such a restriction

.
Meeting Plans:
October Meeting Plan: Rita Bass Center features Denver Health Presentation. We will present the seven elements of the GOBond (no pro/con), invite a representative from Green Roof Initiative (ballot issue) and permit at-large DPS Board candidates 3-5 minutes.
November Meeting Plan: Presentation by DPS
January Meeting Suggestion: Program on Renters Rights because INC members are "residents" of Denver not just home owners. INC at that time can remind RNO's that renters should be integrated and included into their membership. JJ and Margie to pursue.
Other Discussion
Open-house to socialize and network – no push for topic specific – just networking.

Sustainability Speaker for future

INC would like to build membership diversity in age, race.

Talk to Bear Valley Improvement Association about membership
119 total views, 0 views today