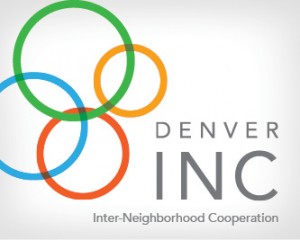 INC DELEGATE MEETING
October 14, 2017
RITA BASS TRAUMA CENTER AUDITORIUM
Delegate Count
Thirty-eight (38) delegates present representing 32 RNOs.
Host Introduction
Olga Garcia and Dr. Robin Wittenstein spoke about Denver Health, their mission, and new facility.
COMMITTEE REPORTS
Dinner Committee
George Mayl provided update on dinner. Help is needed: Three (3) people to stamp and stuff invitations and make name badges, four (4) people for event check in, one (1) person to develop dinner program. All members (delegates / associates) are invited to help out. Dinner is 31 January, 2018. There will be no silent auction. Nominations for award recipients are open.
Denver Decides
Steve Nissen provided update on Denver Decides. School Board debates were broadcast on Channel 8. For videos, visit denver8tv.org . Next Tuesday, 19 October, is the last ballot issue debate. Please send questions to katentaylorphd@gmail.com. Ballots will go in the mail on Monday. There will be 26 drop off locations around the city, and ~6 voting centers.
Transportation Committee
Joel Noble provided update on Transportation Committee. The Vision Zero Action Plan was published last week, providing policy and action goals to eliminate traffic deaths and serious injuries by 2030. The plan can be found at www.denvergov.org/visionzero . The next INC Transportation Committee meeting on November 9th will include a review of the Vision Zero Action Plan with City staff, a presentation from A Little Help on matching neighborhood volunteers with senior neighbors in need, and a presentation by DRMAC on the wide range of medical- and non-medical transportation services available in the city, collected in their new edition of the Getting There Guide which will be distributed. The committee is also working to find a speaker on the next steps coming from the City Council's Sidewalk Working Group to address long-standing problems in citywide sidewalk repair action and affordability. Joel advocated for the GO Bond and encouraged voting in favor.
ZAP Committee
Ean Tafoya and Charles Nadler were recommended as the new Co-chairs for the ZAP Committee. Joel made a motion to approve appointments of Ean and Charles. Ernie seconded. Discussion ensued related to Ean's role with City Council. Several members articulated that Ean worked on behalf of community issues and was an advocate for neighborhoods. It was also requested that differing viewpoints be respected. The delegates voted 33 in favor, 0 oppose, and 1 abstention.
PARC
Maggie Price gave report on PARC. Last meeting was 19 September, and Debbie Ortega was in attendance. Park Hill lot at 28th and Fairfax was on list of land that could be designated as a park. Now, it might be sold to a developer. Discussion will happen today at Park Hill Community Center.
PRESENTATIONS
Park Hill Golf Course Discussion
Evan Dryer from the Mayor's Office and Charlotte Brantley from Clayton Early Learning gave a presentation on Park Hill Golf Course. The Clayton Early Learning center golf lease expires in 2018. Clayton receives $700,000/yr. from golf operator and does not expect lease to be renewed. Clayton began holding stakeholder meetings in November of 2016 and formed Citizens' Advisory Committee to balance need for income and what community wants to see in that space. Survey was conducted and top choices for space use were park and open space, mixed used, grocery store, affordable housing. Clayton will continue to work with community on visioning process. The contract Clayton and the City are working on has the City acquire 50% of property for $10M on 2 January 2018 and begin construction detention area. Other half of property will be acquired through lease-to-own. Agreement with City allows for open space, full development, or a mix of open space and community serving uses. Development of land would go through public process and Council approval. Next steps in visioning process includes case studies, additional meetings and forums, and beginning master plan process in March of 2018.
Brad Cameron spoke as a PARC member and a resident. He does not support this plan because it is a bad deal for the city and will not result in a positive outcome for any of the options presented. Current agreement does not reflect existing easement and appraisal reflects removal of easement. There is nothing in the agreement that promotes a grocery store or affordable housing.
Denver Community Planning and Development staff clarified that before re-zoning would occur, the City would conduct a neighborhood planning initiative. CPD will partner with Clayton and lead a typical planning process that will result in a master plan. The City legal representative state that the conservation easement is only for golf course use and would have to be re-visited unless a golf course is kept there. Brad Cameron disagreed with this interpretation of the conservation easement. It was asked if the initial $10M is coming from CDOT, and the City clarified that it is coming from waste water funds and also from CDOT IGA funds
.GO Bond Initiatives
Evan Dryer discussed GO Bond Measure 2A – 2G. Public input process began with 4000+ projects. Projects were reviewed and prioritized. Mayor's office provided recommendations to City Council, which passed package unanimously. Voters will consider the $973M of proposals on the November 7th ballot. To get involved and support the Go Bond visit: ourdenver2017.com/sign-on-in-support . Tax rates will not increase as a result of bond initiative.
Green Roof Initiative
Green Roof Initiative (I-300) was presented by Nam Henderson. A green roof is a form of green infrastructure with multiple benefits. Green rooftops provides energy cost savings, urban wild life habitat, amenities for community, to name a few. The initiative would require buildings great than 25,000 square feet to have a garden, solar panel, or other green roof component. Mayor's office has concern with mandate requirement. More information on green roofs is available at: http://www.denvergreenroof.org/ . There will be more discussion at the next Zoning and Planning Committee.
Meeting was adjourned at 11:34am. Johan Barrios Secretary

152 total views, 0 views today