by Geneva Hooten
Patterns in How Denver Commutes – Aylene McCallum, Director of Downtown Development, Downtown Denver Partnership
How are people commuting to downtown Denver and how has it changed over the past nine years? What can commute patterns downtown tell us about traveling in Denver more broadly? Providing much more detail than Census-based surveys, the Downtown Denver Partnership's annual commuter survey reveals that active transportation – like walking and biking – is on the the rise for commuters under 30.
In fact, downtown commuters are almost 11 times more likely to bike to work and twice as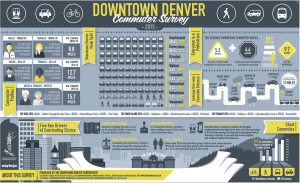 likely to walk to work as the average U.S. commuter. In addition, the adage that "everyone is a pedestrian" holds true because the average commuter walks 10 blocks between their commute and work day obligations. The number of employees who walk to work (5.6 percent of all commuters) increased by 25 percent from 2014.
For Denver's neighborhoods the survey illuminates a number of interesting patterns: the neighborhoods of Golden Triangle/Lincoln Park, Baker/Athmar Park and Five Points have the highest number of bike commuters, while commuters from Littleton, Broomfield and Columbine/Ken Caryl are top users of transit. We know that the average one-way commute into Downtown Denver is 13 miles. Commuters under 30 have the shortest average commute of 8.8 miles and commuters over 50 have the longest average commute of 15.7 miles and nearly half of them (48 percent) use transit.
Five Take-Aways on Downtown Commuting Choice:  
(source:http://www.downtowndenver.com/getting-around/downtown-denver-partnership-releases-2015-commuter-survey-results)
Commuting Distance – Commuters traveling five miles or less are three times more likely to bike to work and 3.5 times more likely to walk to work.
Employer Benefits – Commuters are nearly twice as likely to take transit when their employer fully or partially subsidizes their transit pass.
Job Requirements – 76 percent of Downtown Denver commuters whose employer requires them to have a car at work drive alone.
Age and Gender – Males under 30 are the most likely group to bike to work, women between 30 and 49 are the most likely to drive alone, and commuters over 50 are the most likely group to take transit.
Proximity to Infrastructure – Downtown Denver commuters residing in the Stapleton neighborhood have the highest drive alone rate. This may change in 2016 with the opening of RTD's A Line which will serve Stapleton.
In 2016 the Partnership plans to add questions regarding Transportation Network Companies such as Uber and Lyft, car share like Car3Go, and more nuanced transit questions to tease out more information about commuter behavior.
The Downtown Denver Commuter Survey summary graphic is available at the Downtown Denver Partnership's web site. Aylene has made her entire presentation deck available to us. Thank you!
Civic Center Transit District Plan – Patrick McLaughlin, RTD Senior Transit-Oriented Development Associate

Love Denver Union Station? Ready to see great changes to Civic Center? After a year of planning a draft of the Civic Center Transit District Plan (CCTDP) will soon be released to the public. This Plan is a unique partnership between RTD, the City and County of Denver, and the Downtown Denver Partnership. RTD Senior Transit-Oriented Development Associate Patrick McLaughlin outlined the vision and actionable plan for Civic Center to become a multimodal hub with improved streetscape and wayfinding elements to help create a unique district identity and economic development opportunities.
What's There Today:
Civic Center serves as a major hub for Denver metro transit service (on-street local routes, the Free MallRide, and Free MetroRide) yet the area is uninviting and unsafe. This western shoulder of downtown is ripe for redevelopment as there are undeveloped parcels and a number of surface parking lots.
Scope:  
The CCTDP establishes a long-term vision and identity, near-term implementation options for the future of the station area as a revitalized urban transportation hub and an enhanced

downtown neighborhood.The CCTDP complements the station renovation project which is underway — look for the physical work to begin later this year. The effort also involves an analysis of short, medium and long-term implementation strategies for a 20,000 square-foot developable parcel along the north side of Colfax Avenue between Broadway and Lincoln.
Goals:
The Plan is built on these four goals:
Mobility: Reimagine Civic Center Station as the complement to DUS and the major mobility hub for the southeast sector of Downtown Denver.
Connectivity: Endorse planned, complete networks for transit,pedestrian and bicyclists to connect the district internally and externally to its neighbors.
Economic Development: Optimize economic development potential by creating strategies to redevelop underutilized district properties.
Placemaking: Create a CCTD Public Realm Plan with a distinct sense of place that anchors 16th  Street Mall, creates a unique district identity, and fosters more inviting pedestrian and bicycle connections to its surrounding
The Plan:
This plan addresses mobility and safety challenges for the major corridors surrounding the station, under-performing economic development in the station area, as well as physical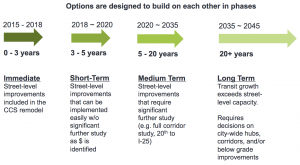 conditions and antisocial behaviors that detract from security and healthy urban activity. Additionally, the plan is intended to consider how to organize and leverage multiple intersecting major transit investments and planning including FasTracks, Colfax Connections, the Central Corridor Study, and others.
Because this Plan stitches together a number of disparate plans that affect this area the large number of stakeholders and decision-makers involved in making decisions about what to do with this site, there are still decisions to work through. Therefore, consider this Plan as a blueprint  to help project partners to use in working toward a mobility hub for Civic Center. Due to the incremental nature of the Plan, here's a taste of what you can expect to see in the next three years:
A completion of the Civic Center Station Rehabilitation. This already-committed project will replace aging infrastructure and provide expanded transit capacity.
While further engineering and technical analysis are needed to accurately test some of this plan's recommended concepts, expect to see improved pedestrian crossings and enhanced bicycle infrastructure and amenities, especially along Colfax Avenue.
Potentially the testing mobility concepts with inexpensive, moveable barriers, striping and other temporary installations (think: lighter, quicker, cheaper!).
An activation of the catalytic parcel (adjacent to Colfax between Broadway and Lincoln) to become a lively public space after the station renovation is completed, until larger development is feasible.
Changes to Broadway and Lincoln corridors (see below!)
Branding and wayfinding signage to anchor and help orient users.
Thank you to Patrick McLaughlin for giving us this preview of the final Civic Center Transit District Master Plan, and for including neighborhood representatives in its creation! As the plan is not yet finalized, we are not yet able to link to a plan or to the summary, but we expect it to be available soon.
Denver Moves Broadway/Lincoln Corridor Study – Emily Snyder, Denver Urban Mobility Manager & Dan Raine, Senior City Planner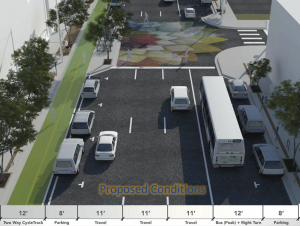 Broadway and Lincoln are the spine of central Denver, connecting downtown Denver to south Broadway and beyond. However, these streets aren't working for everyone: they're auto-focused, unpleasant for pedestrians, and lack bike facilities. Through the Denver Moves Broadway/Lincoln Corridor Study, the City has been studying the feasibility of adding a bikeway to the Broadway/Lincoln corridor.
Background:
Denver Moves Bikes (2011) identified the South Broadway Corridor from downtown to the I-25/Broadway Light Rail Station as a project that "Needs Further Study" project due to its unique character, complex traffic operations, and importance as a north-south spine for travel. The Golden Triangle Plan (2014) included a vision of South Broadway as Grand Boulevard with a goal of increasing transit and active mobility beyond the neighborhood.
The Process:
After an intense two months of data collection followed by two months of public outreach (door-to-door visits, open houses, a robust project website, flyers, and more) and the development of alternatives and recommendations, Emily Snyder and Dan Raine with Denver Public Works provided an overview of Phase One of Denver Move Broadway Lincoln Corridor Study.
The team drafted ten options for each Broadway and Lincoln that were first screened against the following criteria:
Minimal number of travel lanes repurposed
Minimal signal changes needed
Reduces wrong way bicycling ("salmoning")
Provides protection for people biking
Provides additional refuges for pedestrian crossings
Minimizes parking impacts
After narrowing it down to three options: a two-way cycletrack on Broadway, a two-way cycletrack on Lincoln, or one-way cycle tracks on both Broadway and Lincoln, the two-way cycletrack on Broadway met the most criteria and project goals of safety, livability, and mobility and will be carried forward into Phase 2 of the project.
The City has identified pedestrian, bicyclist, transit and place making improvement concepts that will be carried forward into demonstration projects starting later in 2016. These demonstration projects will enable the public to try out the proposed changes in limited sections, and will allow the City to collect data on safety, traffic, and use, all at minimal cost and with maximum flexibility to adapt to what is learned.
You can find out more about the project so far and next steps as they're available at the project web site. Thank you to Dan for the thorough presentation, and to Emily Snyder, Mobility Manager, for being on hand for questions as well! The extensive presentation deck is divided into two parts due to size: Part 1 and Part 2.
Upcoming Meeting Schedule
The INC Transportation Committee's meetings in 2016 will be at 1201 Williams St., 19th Floor:
Thu. May 12th, 6-8 p.m.
Thu. Jul. 14th, 6-8 p.m.
Thu. Sept. 8th, 6-8 p.m.
Thu. Nov. 10th, 6-8 p.m.
Many thanks to Michael Henry for the wonderful meeting space!