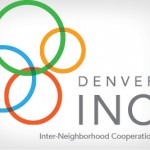 Inter-Neighborhood Cooperation's mission is to advocate for Denver citizens by bringing together, informing and empowering Denver neighborhood organizations to actively engage in addressing City issues.
INC was established in 1975, operates as a not-for-profit organization and is managed by volunteers. We are also classified as a public charity under the 509(a)(1) and 170(b)(1)(A)(vi) of the Internal Revenue Code. INC's 501(c)(3) Federal tax identification is 84-0820113
Join us today and take part in shaping Denver's future.
There are two basic classifications of members. Both classifications offer opportunities to support INC at higher levels of participation beyond standard dues.  These levels are outlined below.  Any member level may participate in INC Committees
1. Neighborhood Organizations Membership
Any
Registered Neighborhood Organization
within Denver County.
Each INC Member Organization may appoint up to two voting Delegates to attend regularly scheduled INC business meetings. Member RNO's are also eligible to serve on INC Committees and represent INC on Denver City Boards and Commissions.
❏ Patron Gold $500
❏ Patron Silver $250
❏ Patron Bronze: $100
❏ Patron $75
❏ Standard RNO Membership: $40
If you prefer to print an application for RNO membership and mail it, please click  Membership Form RNO or you can download a form that allows you to fill out with your computer Fill able form
2. Associate Members Individuals, civic groups, non-profit groups, business organizations, students or government agencies
Associate members are non-voting status.
❏ Patron Gold $500
❏ Patron Silver $250
❏ Patron Bronze: $100
❏ Patron Associate $75
❏ Associate Individual Member: $25
❏ Associate Organization Member $50
❏ Student Member: $10
If you prefer to print an application for Associate membership and mail it, please click Membership Form NON RNO

TO JOIN or RENEW ONLINE Please be prepared to pay via Pay Pal or credit card, click on the appropriate membership category below:
PLEASE BE PREPARED:  IF YOU USE ONLINE PAYMENT PLEASE HAVE INFORMATION AVAILABLE TO USE PAYPAL OR YOUR CREDIT CARD AS YOUR PAYMENT METHOD. THE SYSTEM WILL TIME OUT.
Neighborhood Organization Membership
Neighborhood Organization Membership  – (for neighborhood organizations, business improvement districts, HOA's)
Associate Membership
Associate Membership  – (for individuals, students, City, other business entities)
If you have problems with this form please contact communication@denverinc.org
Please also note that INC newsletters and email updates will originate from the above address, so please allow this address to your email inbox.
Our 2016 Membership is displayed below
INC MEMBERSHIP
The list below represents INC's membership for the year 2017.  Membership for 2018 will be posted by March 7 2018
Membership is categorized as either Registered Neighborhood Organizations (RNO) or Associate Members. INC offers tiered membership opportunities for added support for INC's efforts.  RNO members are our voting members.
RNO MEMBERS-2017
Patron Silver RNO Member
Crestmoor Park (2nd Filing) Homes Assn.
Harvey Park Improvement Assn.
Patron Bronze RNO Member
Congress Park Neighbors Inc.
Cory Merrill Neighborhood Assn.
Country Club Historic District
Highland United Neighbors, Inc/HUNI
Stapleton Master Community Assn.
University Park Community Council
Upper Downtown Development Organization
Patron RNO Member
Baker Historic Neighborhood Assn.
Cherry Hills Vista Community Assn.
City Park Friends & Neighbors (CPFAN)
Overland Park Neighborhood Assn.
Platt Park People's Assn.
Stokes Place/Green Bowers Neighborhood
West Wash Park Neighborhood Assn.
Standard Members
Alamo Placita Neighborhood Assn.
Athmar Park Neighborhood Assn.
Bellevue Hale Neighborhood Assn.
Berkeley Neighborhood Assn.
Berkeley Regis United Neighbors (BRUN)
Bluebird Business Improvement Dist.
Bonnie Brae Neighborhood Assn.
Capitol Hill United Neighborhoods (CHUN)
Cherry Creek East Assn.
Cherry Creek North N.A. (CCNNA)
Cherry Creek North Business Improvement Dist.
Clayton United
Cole Neighborhood Assn.
Colfax Avenue Business Improvement Dist.
Colfax on the Hill/COTH
College View Neighborhood Assn.
Concha Townhome Assn.
Cook Park Neighborhood Assn.
Cultural Arts Residential Organization (CARO)
Curtis Park Neighbors
Driving Park Historic District
East Cheesman Neighbors Assn.
East Colfax Neighborhood Assn.
Elyria Swansea/Globeville Neighborhood Assn.
Five Points Business District
Friends & Neighbors of Cheesman Park
Friends & Neighbors of Washington Park/FANS
Globeville Civic Partners
Globleville K.A.R.E.S.
Golden Triangle Assn.
Greater Park Hill Community
Green Valley Citizens Advisory Board
Greens at Pinehurst HOA
Harkness Heights Neighborhood Assn.
Hilltop Heritage Association
Historic Montclair Community Assn.
Humboldt Street Neighborhood Assn.
Hutchinson Hills/Willow Point Homeowners
Inspiration Point Neighborhood Assn.
Jefferson Park United Neighbors/JPUN
La Alma-Lincoln Park Neighborhood Assn.
Larimer Place Condominiums
Lower Downtown Neighborhood Assn.
Lowry Community Master Assn.
Lowry United Neighborhoods
Mayfair Neighbors Inc.
Montbello 20/20
NOON/Neighbors of North Overland
North City Park Civic Assn.
Park Forest HOA
Rosedale Harvard Gulch Neighborhood. Assn.
Shire of Capitol Hill (The)
Sloan's Lake Citizens Group
Sloan's Lake Neighborhood Assn.
South City Park Neighborhood
South Hilltop Neighborhood Assn.
Southmoor Park East HOA
Southmoor Park South Neighborhood Assn.
Stapleton United Neighbors (SUN)
Sun Valley Community Coalition
Swallow Hill Neighborhood Assn.
The FAX Partnership
University Hills North Community (UHNC)
University Neighbors Assn.
Unsinkables (The)
Upper Santa Fe Neighbors
Virginia Village/Ellis Community Assn.
Washington Park East Neighborhood Assn.
West Colfax Business Improvement Dist.
West Highlands Neighborhood Assn.
Westwood Residents Association
Whittier Neighborhood Assn.
Winston Downs Neighborhood Assn.
ASSOCIATE MEMBERS 2017
Gold Associate Members
Agency for Human Rights & Community (City of Denver)
BGOOD Ventures LLC
Mindful
Visit Denver
Silver Members
Denver City Council – District 1/Councilman Rafael Espinoza
Good Chemistry Nurseries
Michael Henry
Bronze Members
Jan Marie Belle (SWIC)
Denver Health
Denver Water
Gertie Grant
Mile High United Way
Patron Members
Animas Herbal Wellness Center
Colorado Convention Center
Fly Denver (Denver Int'l Airport)
Bernie Jones PhD.
Xcel Energy
Organization Members
Brookdale University Park
City Council District 3
City Council District 6
City Council District 9
Colorado Harvest Co.
Denver Metro Media
Our Denver Our Schools
Zeppelin Development
Individual Members
Christiane H. Citron
Bonna Gayhart
Stephen Griffin PhD
Harriet Hogue
Doug Linkhart
Councilman Wayne New
Councilwoman Deborah Ortega
Sandra D. Shreve
Archived memberships
Other membership lists can be found in our Newsletter Archive –
4,532 total views, 0 views today

2,878 total views, 0 views today