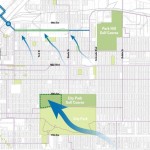 Denver City Council is set to vote on contracts related to a controversial drainage project at the golf course. The work involves a stormwater drainage project and course redesign.
The proposed contracts are on the agenda for Monday, August 14, after the vote was delayed by a week. Councilman Rafael Espinoza requested the delay and sent a letter to Mayor Michael Hancock Friday morning asking him to deny the contracts.
In addition to the video interview by Channel 9, this article also contains a ethics complaint against CW Stacie Gilmore and videos of the LUDI committee and the discussion for a postponement of the contracts surrounding the Park demolition.
702 total views, no views today