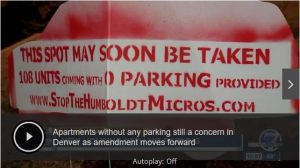 At the January 14 2017 Delegate Meeting, Delegates voted on a text amendment that "Inter-Neighborhood Cooperation (INC) opposes Denver Zoning Code Text Amendment #11, the Pre-Existing Small Zone Lots Parking Exemptions Amendment, and strongly urges City Council to extend the moratorium, as necessary, for permits for Small Lot Parking Exemptions which is due to expire March 30, 2017 and search for a more equitable solution with balance between the parking requirement constraints of development and the associated impact of increased neighborhood street parking." The full minutes which describes the discussion and final vote on the amendment can be found here
https://www.denverinc.org/jan-2017-delegate-meeting-minutes
/
  Apartments without any parking still a concern in Denver as amendment moves forward
Is there a potential conflict of interest?
Channel 7 News
DENVER — Signs that look like little cars represent all the parking spots that could vanish when an apartment building with zero parking spots is built.
"The projects that really started the moratorium in effect could in fact happen anywhere in Denver," said Bill Vanderlan, President of the Humboldt Street Neighborhood Association.
A moratorium on the development of small lots with no parking remains in place until the end of March. In the meantime, an amendment is moving through city channels, and residents don't like what they're hearing.
The new wording doesn't stop things like that from going ahead, it just legitimizes it," said Jodie Brownlee, a resident in City Park West.
The new language went before the city's Community Planning and Development Board last week. Residents and city council members are concerned about a potential conflict of interest. Board member Jim Bershof works for OZ Architecture, the company's logo is stamped on plans for a controversial micro-unit apartments with no parking at 16th and Humboldt.
During the meeting Bershof said, "There's almost, like, an assumption that this text amendment is creating the situation, that we're doing this to allow developers to not have to provide parking."
See the entire article and view the video here