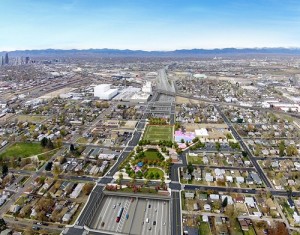 [ezcol_1half]
Mayor Hancock picks former councilman to oversee transformational projects in northeast Denver
By Adrian Garcia, The Denverite June 23, 2017
Mayor Michael Hancock has already found someone to be the city's new chief coordinator of the major redevelopment projects in River North, Globeville and Elyria-Swansea.
Hancock named former City Council member Timothy Sandos as executive director of the North Denver Cornerstone Collaborative on Friday. Earlier this month, the current head of the organization, Anna Jones, announced she was resigning as of July 3.
Jones served a little over a year with the NDCC and said she was leaving to focus on her family, enjoy the summer with her teenage sons and take her first professional hiatus in more than 20 years.
The NDCC was created in 2013 to align the planning and implementation of six major projects in North Denver: Brighton Boulevard improvements; Interstate 70 expansion; National Western Center expansion; neighborhood plans for Globeville, Elyria and Swansea; River North improvements and RTD station developments.
[/ezcol_1half] [ezcol_1half_end]
Tim Sandos to lead North Denver Cornerstone Collaborative
By North Denver Tribune June 23, 2017
DENVER — Mayor Michael B. Hancock today named Timothy Sandos as the new Executive Director of the North Denver Cornerstone Collaborative (NDCC). Sandos will provide general oversight, planning, strategic coordination, financing and implementation of six primary projects under the umbrella of the NDCC, including management of city staff assigned to the collaborative.
A former at-large Denver City Council member, Sandos brings 25 years of extensive experience in executive management, sales, and public and regulatory policy with a focus on economic development, affordable housing and community relations across the United States.
"As Executive Director of the NDCC, Tim will contribute more than leadership and strategic planning. He values the importance of a connected city and connected communities," Mayor Hancock said. "With Tim's experience in both the public and private sector, he will ensure these six projects and the change they are set to bring to the area happens with the residents and businesses. North Denver continues to grow, and Tim, along with the rest of the NDCC team, are well-equipped to listen, help solve for the community's needs and deliver great projects that provide for the local neighborhoods."
[/ezcol_1half_end]
At the Oct 10 2015 delegate meeting INC hosted a forum concerning election item 2C also known as "National Western" later to be part of  the North Denver Cornerstone Collaborative. Participants in this forum were Richard Scharf, Kelly Leid, John Zapien, Susan Barnes-Gelt, Thad Tecza,  Kelley Leid went on to be the first Executive Director of the NDCC. In 2016, Hancock
spun off the National Western project into a separate office
led by former NDCC executive director Kelly Leid.  The video can be
FOUND HERE