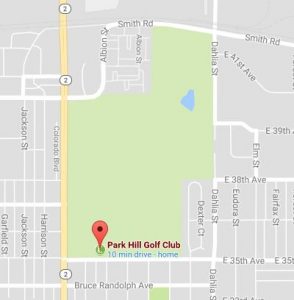 From the Greater Park Hill letters to the Editor
Jan 2, 2018
By Jeff Romeo
I can't tell you what I know about the future of the land that is currently the Park Hill Golf Course, which happens to sit a stone's throw away from the place my wife and I are proud to call our very first home. I can't tell you, because that changes weekly. I'm involved. I've attended the meetings for months. I've read the news. I've received the countless emails. The speculation has already been exhausted.
I can tell you, though, what I see.
I see a large chunk of money sitting on 155 acres of incredible location in an amazing and booming city.
I see land that speaks of community and rich history: A former dairy farm turned into what's now Denver's second oldest golf course.
I see a struggle for survival: A dated golf club/banquet hall that could use a refresh, but also a priceless sanctuary where people come to relax, vent, celebrate, practice, compete with themselves, and strive to be better.
I see loyal and hardworking employees who love what they do, but are desperate for the leadership to keep their vision of the land's potential alive.
I see opportunity.
I see my adjacent neighborhood; a beautiful mix of diverse families, retirees, and young couples, of all different backgrounds, looking to simply maintain the peace – many of whom are unaware of the possible impacts.
I see a group of people who are being told they have a voice, but find it hard to believe they're being heard.
I see a common, but fading story, a fight to keep natural space alive, to hold onto fresh cut grass, not artificial turf.
Take away that space and you're taking away something sacred we're quickly losing – our connection with the earth, the community, and the importance of play. Spaces to calm our busy minds in, to let go in the warm sun, to enjoy stunning snow peaked mountain views and crisp fresh air. Spaces that teach vision, confidence, action, follow through, and consistency.
With great city growth comes changes and compromise. No, I'm not an idiot. I understand the land is valuable and the city is in too much of a housing shortage not to be developed in some areas. I'm an open-minded business owner after all. It's clear a good amount of the 155 acres could be paved over to put up a parking lot. I see the hunger in the eyes of the developers. I see them licking their chops. But in this always sunny city that so many of us call our home, it would be nice to see some of paradise still remain natural. Let's keep the Rocky Mountains in sight.
To the powers that be, please keep one of Denver's last outdoor adult playgrounds alive. In this crazy stressful world we live in, never before has it been more important to have spaces for play, disconnection, reconnection, and community – spaces of sublime open landscapes, which are essential in fighting depression, anxiety, and isolation.
I will fight to protect the simple things we still need as a society, for the benefit of our mental and physical health, for my community, for my city, and for the future individuals that choose to call this little haven their home as well.
I understand everyone has an opinion about what the space should turn into. No matter what that vision is, if you are simply against the entire space being developed, please fill out this survey: https://www.surveymonkey.com/r/3N3ZKFD
Jeff Romeo, Park Hill