Saturday Feb 10th at St. Rose of Lima Church
An Introduction to Warm Cookies of the Revolution
INC's regular meeting will run from 830am (networking, coffee) – 1030A
Bring family and friends to experience a special program from 11A-130p – food available
Español hablado en este evento y Niños bienvenidos
Alimentos de muchas culturas servidos
What:  Shop Talk Live, Warm Cookies of the Revolution, and INC
: Homes bigger than Houses (Westside) and (Eastside) versions
When and Where:
Westside: 
Feb 10th
 at St. Rose of Lima Church
What: Begin at 11a-130p
-Fun event with focus on: Food and or other cultural performances.
-Issues: We decide on a few major themes around Housing that get at things related to gentrification and displacement and everything else involved. Focus heavy on Solutions. Get people to tell stories from experience and also have actionable ways/resources for folks to plug into.
How: Warm Cookies will be the main engine here. Everyone sponsors both, INC puts extra effort into Westside and Shop Talk to Eastside.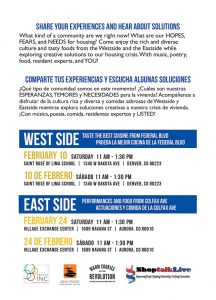 Post expires at 9:24pm on Saturday February 1st, 2020