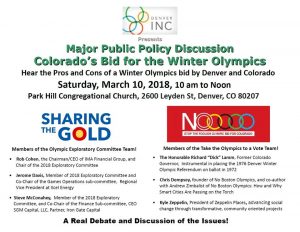 Inter-Neighborhood Cooperation (INC), Denver's association of city-wide Neighborhood Organizations  hosted a critical public policy discussion to evaluate the pros and cons of Colorado's bid for hosting the Winter Olympics in 2030. The event was held Saturday, March 10, 2018, at Park Hill Congregational Church, 2600 Leyden Street, Denver, CO 80207 beginning at 10:15am. The event was open to the public and all interested citizens were invited to attend.
The panel discussion addressed the benefits and risks, advantages and disadvantages associated with a Denver bid for the 2030 Winter Olympics and featured a fair balance of speakers representing both sides, and followed with Q/A.
Members of the Exploratory Committee appointed by Colorado's Governor Hickenlooper and Denver's Mayor Hancock presented the case that Denver and Colorado will greatly benefit from hosting the Winter Games and face low financial risks.
Panelists for INC's March 10 Forum:
Jerome Davis, Member of 2018 Exploratory Committee and Co-Chair of the Games Operations sub-committee
Steve McConahey, Member of the 2018 Exploratory Committee, and Co-Chair of the Finance Sub-committee
Rob Cohen, the Chairman/CEO of IMA Financial, and Chair of the 2018 Exploratory Committee.  His interview with Ryan Warner on CPR here.
Governor Dick Lamm, who was instrumental in placing the Denver Winter Olympics Referendum on the ballot in 1972, following the awarding to Denver of the 1976 Winter Olympics.
Chris Dempsey, founder of No Boston Olympics, and co-author with Andrew Zimbalist of No Boston Olympics: How and Why Smart Cities Are Passing on the Torch
Kyle Zeppelin, President of Zeppelin Places, and resident of RiNo
Background: After working in the background for many years, in December of 2017 Mayor Hancock and Governor Hickenlooper created an Exploratory Committee to evaluate whether bid could be and should be submitted by Denver. The deadline the committee to arrive at a decision was March 31 2018 but has been extended to end of April/early May 2018. The team has been traveling throughout the Front Range and mountain communities to make presentations regarding a potential bid.
There are five teams within the Exploratory Committee, and others have been added to the subcommittees. For a complete list of the appointed Exploratory Committee members, click here. All members serve in a volunteer capacity. Costs of consultants helping the Exploratory Committee are covered by Denver Sports Commission, an arm of Visit Denver.
Current Articles about the INC event.
The Latest: Lamm, Dempsey back Colorado Olympic vote
Articles:
Denver weights Olympic bid over 40 years after saying no thanks
What Do the Pyeongchang Games Mean for South Korea?
https://www.thenation.com/article/what-do-the-pyeongchang-games-mean-for-south-korea/
Cost of a Winter Olympics — and how to pay for it — are chief concerns in bid question
Olympic Agenda 2020
Olympic Games: the New Norm
Denver's Winter Olympics exploratory committee met this week, but the public wasn't invited
Olympic Caveats: Host Cities Risk Debt, Scandal
Interview on WNYC: The Dark Side of the Olympics
Andrew Zimbalist, professor of economics at Smith College, speaking about proposed Boston Olympics Bid
Salt lake City is 1st in US to seek 2030 Winter Olympic Bid
Denver Olympic Committee focuses on 2030 Winter Games, extends deadline
Channel 4 Committee (really focuses more on curling than anything else!)
and this from Andrew Zimbalist…
Tarnished Gold: Popping the Olympic Bubble