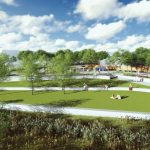 Initially, the city planned to purchase the entire Park Hill course for more than $20 million from Clayton Early Learning, the nonprofit that controls the land. The possibilities included developing part of the land for affordable housing. That hasn't worked out.
Instead, the city is now moving to forcibly buy the right to use part of the land, while still keeping the golf course possible to operate. But the question of whether or not the land really would stay as open space was a central concern on Tuesday night.
Espinoza said he worried that the deal was set up in a way that could let Clayton out of the long-standing agreement that prevents development on the land, and he called for the council to take a closer look.