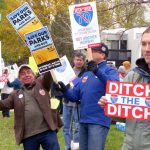 Opponents of the expansion want to see the I-270/I-76 route used for through traffic, with local traffic between Stapleton and downtown handled by surface streets.
Zeppelin is part of the force behind TAXI and other prominent RiNo projects, and he lives in the Globeville neighborhood with his wife and young daughters. He is funding a significant portion of the lawsuit, with the Ditch the Ditch community group also raising more than $50,000 toward the effort.
Zeppelin described himself as "unwilling to play the patronage game" and be silent about something he thinks is wrong in exchange for favorable status with city officials.